Preface
Articles
>Instruments<
Musicians
Books + CDs
Links
_______________________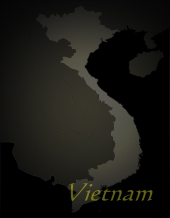 Instruments
The xylofon
Klongput
(click to expand)
-> Video (Youtube)
The

Klong put

is the Xe Dang language name of a musical instrument of the wind family, air driving-in branch. It is played by ethnic groups in Tay Nguyen (Central Highlands) such as the Xe Dang, Bahnar, Gia Rai, Hre, etc...
A traditional

Klong put

consists of many large empty hornless bamboo sections.
The length of each section ranges from 60 to 200 cm and a diameter ranging from 5 to 8 cm.

This woodwind instrument is intended for women. When played, the tubes are laid horizontally and the player must either stand with her back bent or kneel while clapping her hands at a distance of about 10cm to push air into the tubes to produce sounds. Generally, each tube produces only one tone. However, some ethnic groups use the hand to block one end of the tube to produce some different pitches. With this technique, a two-tube Klong put can produce four or five pitches. The Klong put can also be played by two girls at a time.