THE TRADITIONAL MUSIC OF "MYANMAR"
written by
Ingo Stoevesandt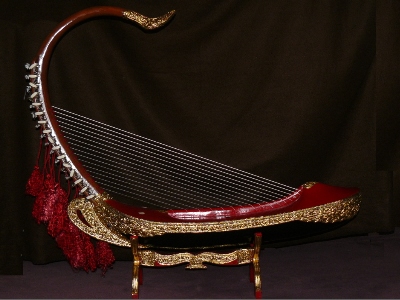 "Myanmar", most famous for its tourist locations in Pagan and Rangun and sadly infamous for its military regime
is the only nation bordering the both influential ancient empires of India and China. It is reknown worldwide for
its beautiful theatre and dance traditions, and musical instruments like the arched harp "Saung Gauk" (above)
or the ancient bronze drums of the Karen people. These present a deep link back into the musical history of Southeast Asia.
Due to its political isolation some of the old traditions somehow still survived
here
.